A journey through the northern heights of l'Urgellet, only suitable for people in very good physical shape, which will take us to Comas de Burbre, the valley of Santa Magdalena and the woods of Sant Joan de l'Erm.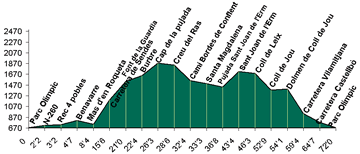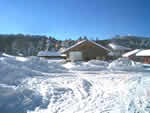 The first part of this "tour de force" cycling coincides in part with the routes 41 and 42, that go to Aravell and Mardiscle. Thus, we will cross the Valira by the bridge of Ciutat, to go towards Aravell and "Mas d'en Roqueta". From here the track raises high with decision by a rough, schistose mountain. We will leave on the left the tower of "Sant Climens", and, above, the town abandoned of Sendes, that remains on the left. The track gains altitude without becoming weak. On the right we will find the deflection that would take us until Sallent, another abandoned town, good sign of the hardness of the conditions of life in the place. We continue raising in the direction of a repeater that there is in the crest.

We will go on up to an extensive zone of grass: "El Ras de Conques" or "d'Ars". The track begins a descent until the river of Santa Magdalena, that marks the limit between the Alt Urgell and the Pallars Sobirà. We will leave on the right another track that would take us towards Conflent. When we arrive at the hermitage go on the river and we will have to raise towards La Basseta, the refuge of the Nordic ski resort of Sant Joan de l'Erm, opened all the year. From here we only have to lower towards the starting point.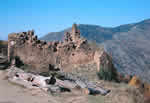 The descent, - that, attention, is very long - passes through the shade of the valley of Castellbò, where there are a pair of dolmens not far from the track: the one of the "Coll de Leix" and the one of the "Coll de Jou". Crossing the forest we will arrive at Vilamitjana, from where we will seek for the road of Castellbò, leaving alongside the venerable ruins of "Costoja", where the viscounts of Castellbó were buried. The road will lead us to Montferrer, from where we will arrive at the base, exhausted but happy.